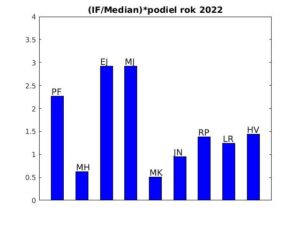 Publikácie v registrovaných zahraničných neimpaktovaných časopisoch a zborníkoch:
E. A. AYRYAN, M. HNATIČ, and V. B. MALYUTIN, On the equivalence of the operator and combinatorial approaches for one-step random Markov processes, Proceedings of the National Academy of Sciences of Belarus, Рhysics and Mathematics series 58 (2022) 21 (13 pages).
M. KRELINA and J. NEMCHIK, Momentum transfer dependence of heavy quarkonium electroproduction, SciPost Phys. Proc. 8 (2022) 114 (6 pages).
Príspevky v domácich zborníkoch a konferenciách:
R. PINČÁK, Time travelling and parallel universes,  26th CONFERENCE OF SLOVAK PHYSICISTS: PROCEEDINGS p. 13-18, Slovak Physical Society, 2022,  ISBN 978-80-89855-19-3 (6 pages). (26. konferencia slovenských fyzikov 05.-08.09. 2022, Košice: Pozvaná prednáška)