Technologies of materials preparation
a) Arc melting furnace MAM-1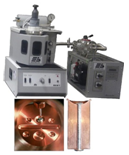 low-sized arc melting furnace Mini Arc Melter MAM-1 for arc melting of 5-20 g samples
melting temperature up to 3500 °C
casting the melt into the the form of small loaf
casting the melt under pressure into chilled Cu-form, ingots ø 3 mm, l = 35 mm
b) Rapid quenching of melts – Melt Spinner SC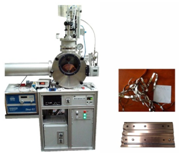 equipment for preparation of amorphous/polycrystalline alloys by rapid (up to 105 °C) quenching
induction melting of 5-10 g samples
melting temperature up to 1800 °C, pyrometer control
melt spinning – molten metal splashing on surface of Cu-wheel, ø 200 mm, max. speed 4200 rpm.
casting option to cooled Cu mould – ingots ø 3 mm and ø 5 mm, l = 200 mm
c) Attritor 01 SERIES MODELS, 01-HDDM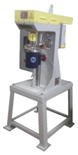 high-energy milling and stirring of powders (up to 1.4 liters) in dry or wet conditions
milling under protective (N2, Ar), oxidizing (O2), or reduction (H2) atmospheres
variable mixing arm speed, max. 650 rpm.
d) Spark Plasma Sintering – SPS HP D10-SD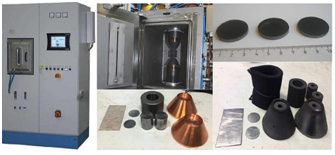 Spark Plasma Sintering device – SPS HP D10-SD – the equipment for preparation of nano/micro composite ceramic and metallic materials from powders by technique of plasma assisted sintering.
sample diameters in range from 10 mm to 70 mm
sample thickness up to 5 mm
low grain size – nanocomposite materials
very short sintering times from 1 min. to 20 min.
Preparation of specimens for material analyses
a) Metalographic grinding and polishing machine Phoenix 4000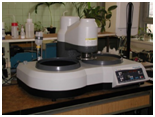 The equipment serves for preparation of metallographic cross-sections for light optical microscopy and prior preparation of specimens for scanning and transmission electron microscopy.
b) Electrolytic polishing machine LectroPol-5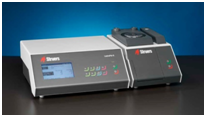 The equipment for electrolytic polishing and etching of metallographic samples (e.g. for SEM and EBSD analyses), which are resistant against commonly used etchants.
c) Precision Etching and Coating System (PECS) 682 PECS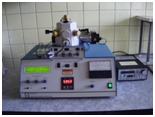 The device is used for cutting, etching, and coating of samples by means of ion beam. It serves for the preparation of samples for electron microscopy, e.g. for deposition of various conductive elements on the surface of samples for SEM, TEM, and EBSD analyses.
Microscopy
a) Light optical microscope OLYMPUS GX71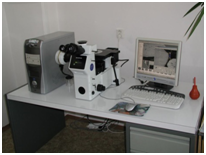 Light optical microscope Olympus GX 71 with digital camera and maximally 2000-times magnification. The method for basic microstructural analyses of materials, including bright field, dark field, polarized illumination and differential interference (Nomarski contrast) observations.
b) Scanning electron microscope Jeol JSM 7000F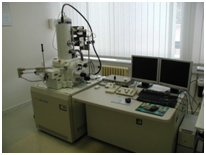 Multifunctional high-resolution scanning electron microscope (SEM) JEOL JSM-7000F with auto-emission gun "THERMAL FEG". It serves for detailed (submicron) microstructural analyses of materials up to 100,000-times magnification. Apart from morphological observations of microstructural objects, in combination with analytical EDX and EBSD units, it enables to obtain information about their chemical composition, phase composition and crystallographic orientation.
c) Scanning-transmission electron microscope JEOL JEM-2100F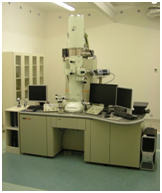 High-resolution scanning-transmission electron microscope JEOL JEM-2100F UHR with auto-emission Schottky cathode. In the TEM mode, it achieves maximal magnification of 1,500,000-times. In diffraction mode, it enables electron diffraction from nano-volume of few cubic nanometers in size. In the STEM mode, it provides maximal magnification of 150 million-times. It enables observations in dark field as well as in bright field. The microscope is equipped with EDX analyzer and digital camera GATAN with sensitive two-canal sensor.
Mechanical testing
a) Electro-mechanical universal testing machine Instron 5985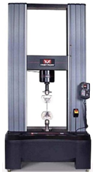 power capacity: ±250 kN
pneumatic chops capacity 200 kN,
1930 mm vertical testing area
specimen dimensions: max. depth: 40 mm, max. thickness: 75 mm, max. diameter: 50 mm
temperature chamber from -150 °C to +350 °C
dynamic extensometer: direct measurement of elongation
feedback machine control (tensile, compression and fatigue tests)
chucking length of extensometer 12.5 mm with stroke ± 5mm (±40% of sample extension),
temperature range of extensometer: -80 °C up to +200 °C
b) Electro-mechanical testing machine TiraTest 2300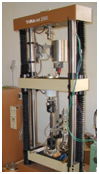 force sensors: 1 kN, 10 kN and 100 kN
wide range of tensile, compression, bending, exfoliation, tearing, and friction applications
temperature chamber from 200 °C to 1000 °C
extensometer MFHT5 Lo 10-50 mm
c) Hardness tester Vickers  432SVD

hardness tester for Vickers hardness measurements in conformity with EN-ISO 6507 (digital reading)
LCD visualization, on-line statistics
testing methods: Vickers & Knoop
loading: 0.3 – 0.5 – 1 – 3 – 5 – 10 – 20 – 30 kgf
accuracy according to EN-ISO 6507, ASTM E384 and E92, and JIS
manual image processing and automated indent evaluation
d) WILSON-WOLPERT hardness tester Tukon 1102

micro Vickers hardness measurements according to EN-ISO 6507 / ASTM E384
testing methods: Vickers & Knoop
loading: 10, 25, 50, 100, 200, 300, 500, 1000 (2000) (gf)
standards: EN-ISO 6507, ASTM E384 & E92, and JIS
conversion to: Brinell, Vickers, Rockwell
manual image processing including the possibility of automated indent evaluation
with motorized X-Y table (software controlled)
e) Universal hardness tester with max. loading 250 kg, model UH250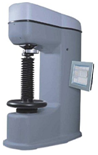 methods: Brinell, Vickers, Rockwell, S-Rockwell, Knoop, HBT
standards: ISO 6506, ISO 6507, ISO 6508, ISO 4545, ASTM E18, ASTM E92, ASTM E10 a JIS
loading: 1, 3, 5, 10, 15, 15.625, 20, 30, 31.25, 50, 60, 62.5, 100, 125, 150, 187.5, 250 kgf
Vickers Test Procedures-HV 1, 2, 3, 5, 10, 20, 30, 50, 100
Rockwell Test Procedures-A, B, C, D, E, F, G, H, K, L, M, P, R, S, V, Bm, Fm, 15N, 30N, 45N, 15T, 30T, 45T, 15W, 30W, 45W, 15X,30X, 45X, 15Y, 30Y, 45Y, 30 TM, HMR 5/25
Brinell Test Procedures-HB1: 1, 2.5, 5, 10, 30; HB2.5: 6.25, 15.625, 31.25, 62.5, 187.5; HB5: 25, 62.5, 125, 250; HB10: 100, 250
f) Nanoindenter Agilent G200

equipment for nano-indentation measurements (nano-hardness measurements)
high measurements accuracy
testing from 0.5 mN do 10 N
dynamic mechanical analysis
tip scanning
micro-scratch testing
testing up to 500 °C
g) Resonance  fatigue testing machine Cracktronic

table model for dynamic bending load applications, testing frequencies 40-300 Hz.
applications: fatigue tests (S/N-diagrams); Fatigue crack growth (da/dN-curves)
maximal value of bending moment: 160 Nm
max. peak-peak value of bending moment: 160 N (± 80 Nm)
max. static moment: 100 Nm positive moment
dynamic angle: 2° (± 1°) adjustable
h) Charpy impact test equipment

dynamic impact bending tests
determination of  impact energy and impact toughness
i) Creep machines (6 creep stands)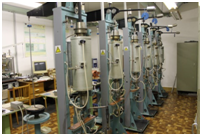 tensile creep tests of metallic materials at constant loading
temperature range from 200 °C to 650 °C
range of initial loading stresses from ca. 50 MPa to 200 MPa
continual measurement of creep strain by using LVDT sensors with accuracy of 1 μm
determination of creep life (time to rupture) and creep plastic properties
Heat treatment
a) Chamber ovens LAC with programmable controller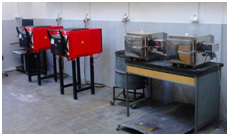 electric resistance furnaces up to 1280 °C for heat treatment of metallic and non-metallic materials
quenching and tempering of Fe-based alloys
long-term thermal expositions
conduction of complex thermal cycles
output from the controller to PC (recording of temperature course in real time)
Laser treatment
a) Laser equipment TRUMF model TruLaser Station 3003 with source TruFiber 400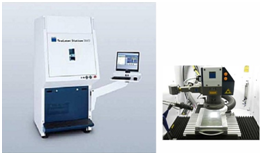 Laser equipment TRUMF model TruLaser Station 3003 with source TruFiber 400 enables:
laser scribing for affecting the magnetic domains structures
laser micro-texturing of material surfaces
deposition of layers on metals and ceramics (laser cladding/sintering)
laser (surface) alloying
precise micro-welding/soldering/brazing of metals/ceramics/plastics
precise micro-cutting
precise marking and engraving of materials
quenching/thermal effects on material surfaces
Thermal analyses
a) Differential scanning calorimeter Perkin Elmer DSC 8500

DSC 8500 power compensation differential scanning calorimeter of new generation. With respect to material type, various quantities may be determined: enthalpy of system changes, temperatures of phase transformation, melting, glass transition, demagnetization, evaporation, and sublimation.
temperature range: from -180 °C to 750 °C
heating rate: from 0.01 to 750 °C/min
cooling rate: from 0.01 to 750 °C/min
temperature accuracy ± 0,05 °C
cooling time from +100 °C to -100 °C using cooling system CLN2: 80 s
b) Thermal DTA-DSC-TG analyzer Jupiter STA 449-F1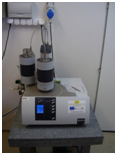 Simultaneous thermal analyzer (Jupiter STA 449-F1, NETZSCH) for realization of TG-DSC/DTA analyses. The equipment serves for phase analyses and analyses of kinetics of phase transformations in anisothermal conditions.
temperature range: from 25 °C to 1550 °C
heating rate: max. 50 K/min
heating rate: max. 1000 K/min (by using high-speed heating furnace)
temperature resolution 0.001 K
accuracy of DSC enthalpy  ± 2% (for majority of materials)
Phase analyses
a) XRD diffractometer Philips X`Pert Pro with high-temperature chamber up to 1600ºC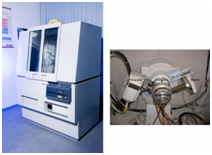 Diffractometer Philips X'Pert Pro MPD with ultra-high speed detector X'Celerator, optional measurements with scintillation detector, measurements in Bragg-Brentano geometry in several variations: q-q; w-q.
The equipment enables to analyze phase composition (crystallographic characteristics) of matters, phase amounts in materials, size of crystallites and macro/micro stresses (measurement of residual stresses using the method sin2Ψ). It enables also realization of in-situ experiments using high-temperature chamber HTK16.