Wattmeter Zimmer LMG500
Measuring watt losses of materials, ferrite cores, transformers, electric motors
Frequency bandwidth 0.05 Hz – 10 MHz
Accuracy 0.025%
Dynamic measuring range 3 – 1000 V, 20 mA – 32 A
Rigol D1202CA – 200 MHz digital oscilloscope
UV 1800 Shimadzu – UV VIS Spectrophotometer
UV VIS dual-beam spectrophotometer
Range 1100-200 nm
Micro cuvette attachment (70 µL)
Measuring the kinetics of reactions and enzyme activity in the temperature cell
Microm SA-260 MA – sterilizer
Automatic autoclave sterilizer for sterilization of samples and laboratory aids
Teraohmmeter Sefelec M1501P
DC measurement of powder and compact material resistance
Teraommeter – measuring range from 3 kOhm to 2000 TOhm (shielded chamber measurement)
Measuring voltage 1-1500 V
Accuracy 0.2%
Range of picoampermeter 0,0, pA – 20 mA
Sefelec BEM24 calibration box, 23 resistors from 5 kOhm to 100 TOhm with temperature and humidity measurement
Multimetern 6 1/2 digit Keithley 2100 – range 100 microOhm – 100 MOhm
Multimeter 7 1/2 digit Keithley 2010 – range 1 microOhm – 100 MOhm
Light microscope with Linkam TS 1400XY high temperature chamber
Materials Spreadability Analysis
Analysis of material transformations in the heating and cooling process
The maximum working temperature of the chamber is 1400 ºC
Heating rate up to 200 ºC / min.
Cooling rate 240ºC / min.
The digital camera allows you to save individual images or video process
Nikon SMZ18 – Light Stereomicroscope
Zoom range 0.75-13.5x
Smooth magnification 3.75-135x
Segmented ring LED lighting with continuous light intensity control
DS-Fi2 CCD camera maximum resolution 2560 x 1920 pixels, 8-bit converter, exposure time 1 / 13000-60 sec.
Autofocus and 3D image reconstruction (Nikon EDF)
Nikon MA200 – inverted metallographic microscope
Observation methods: reflected light, bright field, dark field, polarized light, differential interference contrast
Optical magnification 50, 100, 200, 500 and 1000x
DS-Fi2 CCD camera maximum resolution 2560 x 1920 pixels, 8-bit converter, exposure time 1 / 13000-60 sec.
Manual control of XY and Z feed and focus
Nikon ECLIPSE-LVDIA – automatic motorized optical microscope
Observation methods: reflected and transmitted light, bright field, dark field, fluorescence, polarized light, differential interference contrast
Optical magnification of 50, 100, 200, 500 and 1500x
DS-Ri1 CCD camera with Peltier element, maximum resolution 4076 x 3116 pixels, 12-bit converter, exposure time 1 / 1000-600 sec.
Automatic programmable feed in XY and Z directions
Automatic focusing, automatic linking of series of images
3D image reconstruction by joining Z-sections using Nikon EDF (Extended Depth of Focus)
Image measurement and analysis by NIS-elements
Vibrating bal mill – Lab Wizz 320
High energy milling, mechanical treatment of the particle size, intensive mixing, mechanical alloying and mechano-chemical synthesis.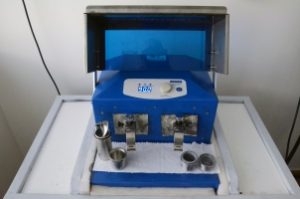 Milling capacity to 160 ml
2 milling ports

Freqency 1 – 30 s−¹

Timer 0 – 99 min
Mastersizer 2000 E – a particle size laser diffraction analyzer
Sampling – dry feeder Scirocco 2000M with automatic detection
Measuring range -0.02 – 2000 micrometers
Red light source – helium-neon laser
Blue light source – a stiff source
Automatic calibration and adjustment of the optical system
Detection system red light – direct scattering, side scattering, backscatter
Blue light detection system – wide-angle direct and backscatter
Llyophilisator ilShin
The ilShin freeze dryer with evaporator up to -50 ° C
Drying under reduced pressure 5 mTorr
Lyophilization of biomaterials or biological preparations, non-toxic powder materials
LabTest 5.600 ZL – precision hydraulic press
Pressing equipment is suitable for shaping and consolidation of powder materials by pressing in closed die.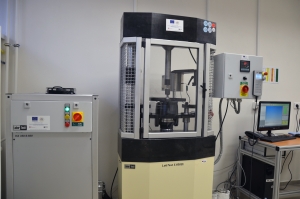 Precision hydraulic press, capacity 600 kN
Continuous driven movement 0,05 – 100 mm/min.
Speed drive accuracy 0,5 %
Resolution of traverse movement 10 microns
Force-reading device 3-600 kN a 0,3-60 kN
Shift and movement reading accuracy 0.1 microns
High temperature chamber for warm compaction up to 300 ºC
Digital measurement and control unit for drive and processing of pressing process data
DC resistance measurement Mitsubishi Loresta AX
4 point resistance measurement method
Linear probing probes
Measuring range from 10 mOhm to 10 MOhm
Accuracy 0.5%
LECO LM700AT – automatic micro hardness tester
Load: 10 g, 25 g, 50 g, 100 g, 200 g, 300 g, 500 g, 1000 g
Lenses: 10x, 50x, 100x
Tip: Diamond indentor Vickers
Measuring microscope: electronic
Automatic Penetration Evaluation – Conversion Table HV
ESCO II BSC – Laminar Box
BSC Class II Laminar Box for Sterile Work Activities
LabRAM Vacuum – Resonant Acoustic Mixer
Resonant acoustic mixing is technology which utilize low frequency acoustic energy for mixing of powders and liquids. Mixing process is non-invasive, size and shape of powder particles is not influenced by mixing. Tme mixture is not contaminated by abrasion of mixing jar. Advantages of this technology are high intensity, short process time and high reproducibility of the mixing.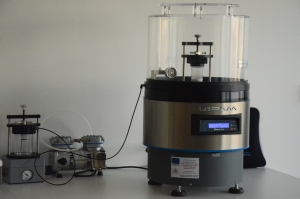 Mixing capacity up to 500 g
Acceleration of mixed material up to 100 G
Optional – vacuum mixing up to 866 hPa
Digital control of acoustic energy intensity
digital timer
Memmert INCO153 – Incubator
Memmert CO2 incubator for cell culture
HPLC / GPC system
Watrex HPLC / GPC System with IR and UV VIS Detector (4 Channel) and Clarity Workstation for Molecular Weight and Composition Analysis of Biopolymer Systems, Proteins, Polysaccharides
Single mode sintering system with impedance analyzer
Microwave heating the sample in a silicon tube
Chamber diameter 28 mm, height 80 mm
Temperature up to 1250 ° C
Pyrometer temperature measurement
Real time measurement and analysis of absorbed and reflected microwaves
Visual inspection of the sample during the process
Manually controlling the absorbed microwave radiation intensity in the sample
Protective working atmosphere Ar, N, air
Measuring and analyzing the temperature profile of the sample using a real-time thermal imager with recording capability
Hamilab V3000 – multimode sintering system
Microwave power output 0.2 – 2.85 kW continuously controlled automatically
Maximum temperature in the process chamber 1600 ° C
Temperature measurement by IR pyrometer
Working atmosphere Ar, N, He, dry air
Rotary sample holder, rotation 5 rpm.
Working chamber diameter 500 mm, height 560 mm, casing cooled by water
IRAffinity-1 Shimadzu – FTIR spectrophotometer
ATR ZnSe FTIR Measurement of Surface Films
Complete evaluation software
AccuPyc II 1340 – automatic device for measuring density
Working medium Helium (possibility to use Ar, N, CO2)
Replaceable measuring cells of 10; 3.5 and 1 ml
High measurement accuracy ± 0.02% of nominal cell volume
Automatic repeat measurement
Automatic statistical evaluation and reporting system
Measurement of coercive force DX-320
Measuring the coercive force of the magnetically soft materials
Measuring range 1 – 8000 A / m
2% accuracy
Maximum magnetic field 30 kA / m
Hettich Micro 220 R – Centrifuge
Centrifuge for separation of chemical and biological mixtures
Jacomex G (save)-T2+2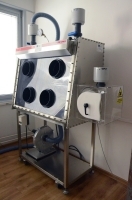 Glove box with adjustable negative pressure up to 10 mbar
Airflow capacity 50 m³ / h.
Internal and external HEPA filters
Stainless steel construction
Terra Universal S100
Glove box with positive inert gas pressure max 7 bar
Inert gas flow 0.95 – 9.45 l / min.
Vacuum dryer Binder VD 53
Plug-in grids for fast heat transfer from heated chamber walls through sample grates and homogeneous temperature distribution in the chamber
An aeration valve and the possibility of supplying air or inert gas
Pressure 0.01 mbar
Adjustable temperature up to 200 ° C
Attritor HDDP 01
High-energy mechanical dry or wet milling of metallic and ceramic powders
Water cooling of milling jar

Variable frequency drive up to 4200 rpm. for milling jar size 750cm³
Perkin Elmer DSC 8500 Differential Scanning Calorimeter
Temperature range: from -180 ° C to 750 ° C
Heating speed: from 0.01 to 750 ° C / min
Cooling speed: from 0.01 to 750 ° C / min
Temperature accuracy ± 0,05 ° C
Cooling time from +100 ° C to -100 ° C with CLN2 cooling system: 80 s