Preparation and production technology
SPS HP D10-SD – Spark Plasma Sintering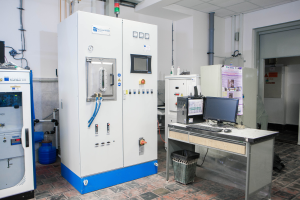 Hydraulic press capacity 10 t [5 – 100 kN]
Max. temperature 2200 °C, heating rate 5 – 1000 K/min.
DC pulse source to 5500 A at 7,2 V
Max. continuous power 37 kW
Impulse timing 1…255 ms, break timing 0…255 ms
Process gases – Ar, N (max. 5 bar)
Vacuum at room temperature 5×10-² mbar
Melt Spinner SC – Rapid solidification of melts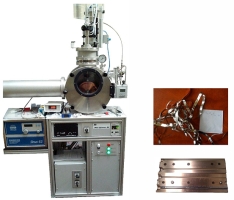 Cooling rate up to 105 oC/s
High-vacuum system 2.10-5 mbar
Induction melting 5-10g batch
Process temperature up to 1800oC
Temperature measurement – pyrometer
Melt spinning – melt jetting on Cu roller, Ø200 mm, rotating speed up to 4200 ot/min
Die casting to cooled Cu mould – ingots Ø3mm a Ø5mm, l = 200mm
Arc melting furnace MAM-1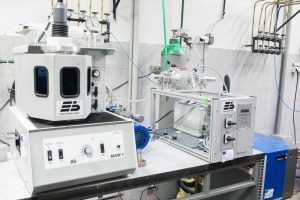 Mini Arc Melter MAM-1 arc melting of 5-20 g batch
Melting temperature up to 3500°C
 Melting and casting to the shape of loaf
Suction  casting to cooled Cu mould, ingots ø 3 mm, l = 35 mm
NanospiderTM NS LAB
Nanospider is the device, which enables production of continuous random or aligned webs of fibers with different web area weight and different fiber diameters. It allows electrospinning of a wide range of materials (different types of polymers, including bio-materials), using various substrates. Composite polymer/inorganic fibers are used as the precursors of ceramic micro/nanofibers.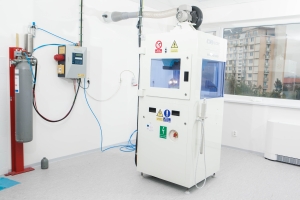 Diameters: 50 – 700 nm (+/-30 %)
Length: significant
Vlákna: continuous, uniform
Web area weight: od 0,03 g/m²
Web thickness: 1 – 500 µm
Effective width: 250 – 350 mm
Attritor 01 SERIES MODELS, 01-HDDM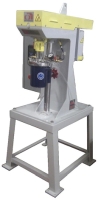 High-energy mechanical milling of powders (up to 1,4 l) dry or wet milling
Milling in protective atmosphere (N2, Ar), oxidizing atmosphere (O2) or v reduction atmosphere (H2)
Rotating speed up to 650 rpm.
Attritor HDDP 01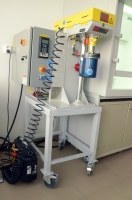 High-energy mechanical dry or wet milling of metallic and ceramic powders
Water cooling of milling jar

Variable frequency drive up to 4200 rpm. for milling jar size 750 cm³
Vibrating bal mill – Lab Wizz 320
High energy milling, mechanical treatment of the particle size, intensive mixing, mechanical alloying and mechano-chemical synthesis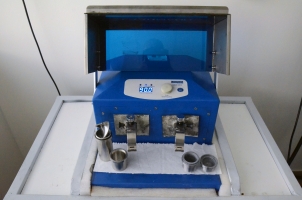 Milling capacity to 160 ml
2 milling ports

Freqency 1 – 30 s

-1

Timer 0 – 99 min
LabRAM Vacuum – Resonant Acoustic Mixer
Resonant acoustic mixing is technology which utilize low frequency acoustic energy for mixing of powders and liquids. Mixing process is non-invasive, size and shape of powder particles is not influenced by mixing. Tme mixture is not contaminated by abrasion of mixing jar. Advantages of this technology are high intensity, short process time and high reproducibility of the mixing.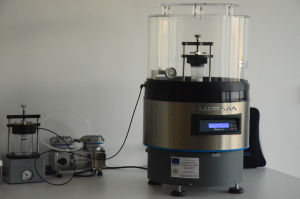 Mixing capacity up to 500 g
Acceleration of mixed material up to 100 G
Optional – vacuum mixing up to 866 hPa
Digital control of acoustic energy intensity
digital timer
LabTest 5.600 ZL – precision hydraulic press
Pressing equipment is suitable for shaping and consolidation of powder materials by pressing in closed die.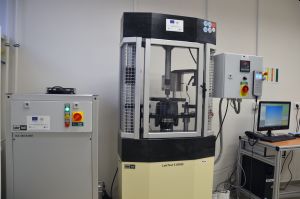 Precision hydraulic press, capacity 600 kN
Continuous driven movement 0,05 – 100 mm/min.
Speed drive accuracy 0,5 %
Resolution of traverse movement 10 microns
Force-reading device 3-600 kN a 0,3-60 kN
Shift and movement reading accuracy 0.1 microns
High temperature chamber for warm compaction up to 300 °C
Digital measurement and control unit for drive and processing of pressing process data
Microwave Sintering Equipments
Hamilab V3000 – multimode sintering system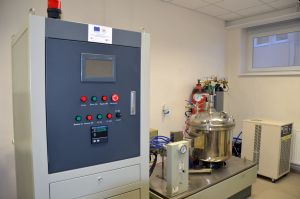 Microwave power output 0.2 – 2.85 kW continuously controlled automatically
Maximum temperature in the process chamber 1600 ° C
Temperature measurement by IR pyrometer
Working atmosphere Ar, N, He, dry air
Rotary sample holder, rotation 5 rpm.
Working chamber diameter 500 mm, height 560 mm, casing cooled by water
Single mode sintering system with impedance analyzer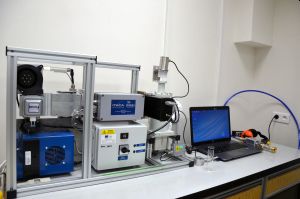 Microwave heating the sample in a silicon tube
Chamber diameter 28 mm, height 80 mm
Temperature up to 1250 ° C
Pyrometer temperature measurement
Real time measurement and analysis of absorbed and reflected microwaves
Visual inspection of the sample during the process
Manually controlling the absorbed microwave radiation intensity in the sample
Protective working atmosphere Ar, N, air
Measuring and analyzing the temperature profile of the sample using a real-time thermal imager with recording capability
CARBOLITE – tubular sintering furnace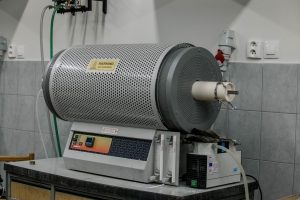 Electric furnace with SiC heater to Tmax. = 1500 ° C
Sintering of both metal and non-metallic powders
Sintering in vacuum (up to 8 mbar), inert (N2, Ar) and reducing atmosphere (H2, H2-N2)
Tube diameter 90 mm
Uniform heating zone length 450 mm
PID controller (8 segments with customized self-timer temperature ramp)
Monitoring of furnace air quality, O2 content analysis (0-10,000 ppm), RB measurement (-100 – +20 ° C)
Continuous monitoring of active atmosphere components throughout the sintering cycle NDIR CO2 analyzer (0-5000 ppm), CO (0-3% vol.) And O2 (0-10000 ppm)
Vacuum dryer Binder VD 53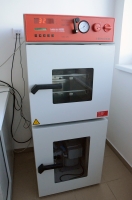 Plug-in grids for fast heat transfer from heated chamber walls through sample grates and homogeneous temperature distribution in the chamber
An aeration valve and the possibility of supplying air or inert gas
Pressure 0.01 mbar
Adjustable temperature up to 200 ° C
Glove Boxes
Jacomex G (save)-T2+2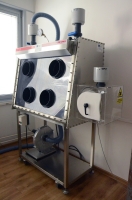 Glove box with adjustable negative pressure up to 10 mbar
Airflow capacity 50 m³ / h.
Internal and external HEPA filters
Stainless steel construction
Terra Universal S100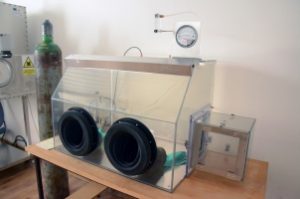 Glove box with positive inert gas pressure max 7 bar
Inert gas flow 0.95 – 9.45 l / min.
PVD coating equipment
Cryofox Discovery 500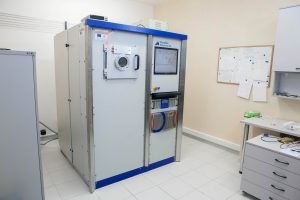 PVD device with HiPIMS and DCMS sources after technical evaluation
3 unbalanced magnetrons (2 focused) with DC and HiPIMS sources
Rotating holder with underfloor heating up to 500 ° C and pulse bias up to -1400 V
Reaction sputtering (N2, C2H2, H2, O2, etc.)
PQL S500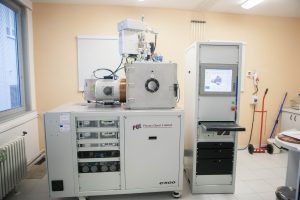 HiTUS technology for sputtering thin films and coatings
Four 100 mm diameter targets with RF source for conductive and non-conductive materials
Rotating holder with underfloor heating up to 500 ° C and RF prestressing up to 500W
Reaction sputtering (N2, C2H2, H2, O2)
In Situ measurement of substrate temperature, sputtering rate, residual gas composition and plasma composition (optical spectroscopy)
TRUMF laser device model TruLaser Station 3003 with TruFiber 400 source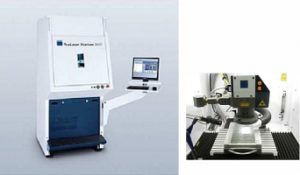 Laser Scribing for influencing the size of magnetic domains
Laser microstructure of material surfaces
Creating layers on metals and ceramics (Laser Cladding / Sintering)
Alloying of materials (Laser Alloying)
Precision micro-welding / soldering of metals / ceramics / plastics
Precise micro-cutting
Precise laser marking and engraving of materials
Quenching / thermal treatment of material surfaces
LAC chamber furnaces with program regulator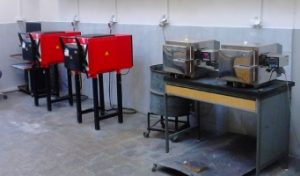 Electrical resistance furnaces up to Tmax = 1280 ° C for heat treatment of metallic and non-metallic materials
Hardening and tempering of iron-based alloys
Long term thermal exposure
Implementation of complex thermal cycles
Output from controller to PC (time recording)
EIR-EMO2 – Electro-spark cutting machine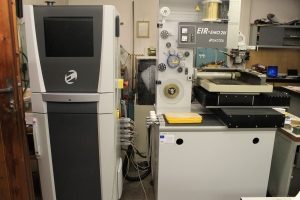 A four-axis wire cutter with a large feed range and high positioning accuracy
Two-way cutting of workpieces (cutting of different shapes in the lower plane X, Y and upper plane U, V)
Management software
Maximum workpiece weight: 50 kg
Slide range X x Y x Z 380 x 270 x 120 mm
ESCO II BSC – Laminar Box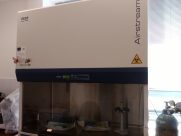 BSC Class II Laminar Box for Sterile Work Activities
Memmert INCO153 – Incubator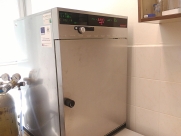 Memmert CO2 incubator for cell culture
Microm SA-260 MA – sterilizer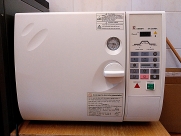 Automatic autoclave sterilizer for sterilization of samples and laboratory aids
Hettich Micro 220 R – Centrifuge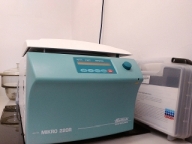 Centrifuge for separation of chemical and biological mixtures
Preparation of preparations for material analysis
Metallographic grinder and polisher Phoenix 4000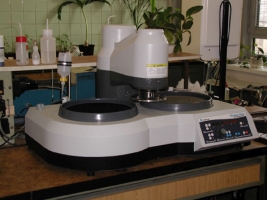 The device is used for sample preparation for light microscopy and pretreatment of samples for scanning and transmission electron microscopy
LectroPol-5 Electrolytic Polisher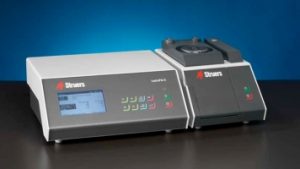 Equipment for electrolytic polishing and etching of metallographic samples of materials (eg for SEM and EBSD analysis) that are resistant to commonly used chemical etchants
Ion cutter 682 PECS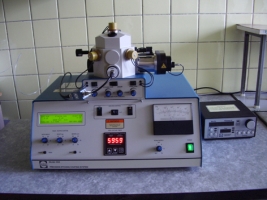 The device is designed for cutting, etching and coating samples with ion beam. The device is used to prepare samples for electron microscopy e.g. for applying various conductive elements to the surface of the SEM, TEM, and EBSD assay samples
Llyophilisator ilShin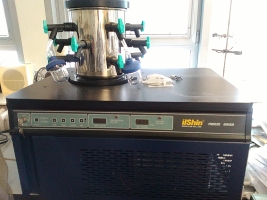 The ilShin freeze dryer with evaporator up to -50 ° C
Drying under reduced pressure 5mTorr
Lyophilization of biomaterials or biological preparations, non-toxic powder materials
Electron microscopes
SEM / FIB – CrossBeam system AURIGA Compact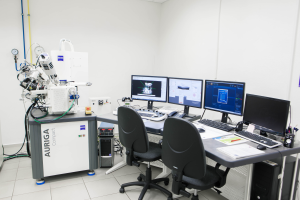 SEM (scanning electron microscopy)
Resolution 0.9 nm at 30 kV (STEM mode), 2.5 nm at 1 kV
Magnification 12x-900,000x
FIB (Focused ion beam)
5 nm resolution (30 kV, 1 pA)
Magnification 600x – 500,000x
SEM EVO MA15 – Environmental Scanning Electron Microscope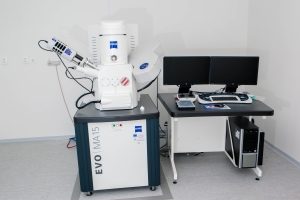 W fiber
SE and BSE detectors for work at elevated pressure
Range of working pressures in the chamber up to 400 Pa
5-axis motorized table
Great Chamber
Oil-free vacuum
SEM Jeol JSM 7000F – Scanning Electron Microscope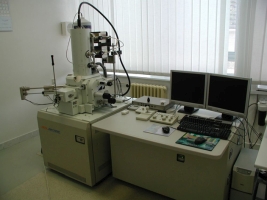 Resolution: 1.0 nm (15 kV), 1.4 nm (1 kV)
Magnification: from × 25 to × 1,000,000
Voltage: from 0.1 kV to 30 kV
Detectors: EDS, EBSD
TEM JEOL JEM-2100F UHR – Transmission Electron Microscope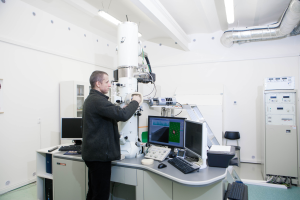 Point resolution of 0.19 nm
Lens with a spherical defect coefficient of 0.5 mm
Schottky type FEG cathode
STEM light field detector
STEM dark field detector / HAADF mode
EDS detector Oxford instruments X-MAX 80 mm2
Gatan Orius SC1000A Digital Camera
Tilt bracket +/- 60 ° JEOL
Holders with JEOL sample rotation
Electromagnetic shielding ETS-LINDGREN EMFC-MK IV
Light microscopes
Nikon ECLIPSE-LVDIA – automatic motorized optical microscope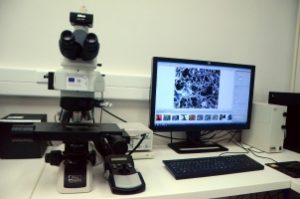 Observation methods: reflected and transmitted light, bright field, dark field, fluorescence, polarized light, differential interference contrast
Optical magnification of 50, 100, 200, 500 and 1500x
DS-Ri1 CCD camera with Peltier element, maximum resolution 4076 x 3116 pixels, 12-bit converter, exposure time 1 / 1000-600 sec.
Automatic programmable feed in XY and Z directions
Automatic focusing, automatic linking of series of images
3D image reconstruction by joining Z-sections using Nikon EDF (Extended Depth of Focus)
Image measurement and analysis by NIS-elements
Nikon MA200 – inverted metallographic microscope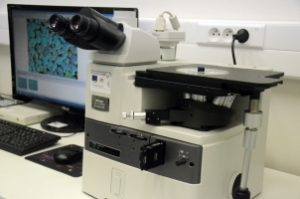 Observation methods: reflected light, bright field, dark field, polarized light, differential interference contrast
Optical magnification 50, 100, 200, 500 and 1000x
DS-Fi2 CCD camera maximum resolution 2560 x 1920 pixels, 8-bit converter, exposure time 1 / 13000-60 sec.
Manual control of XY and Z feed and focus
Nikon SMZ18 – Light Stereomicroscope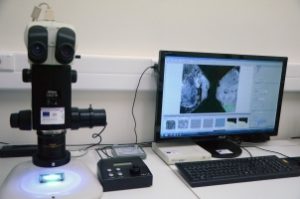 Zoom range 0.75-13.5x
Smooth magnification 3.75-135x
Segmented ring LED lighting with continuous light intensity control
DS-Fi2 CCD camera maximum resolution 2560 x 1920 pixels, 8-bit converter, exposure time 1 / 13000-60 sec.
Autofocus and 3D image reconstruction (Nikon EDF)
Light microscope with Linkam TS 1400XY high temperature chamber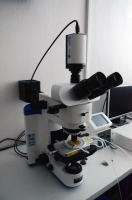 Materials Spreadability Analysis
Analysis of material transformations in the heating and cooling process
The maximum working temperature of the chamber is 1400 ºC
Heating rate up to 200 ºC / min.
Cooling rate 240 ºC / min.
The digital camera allows you to save individual images or video process
Stemi 2000 C – Stereomicroscope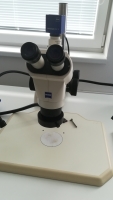 Stereomicroscope for fast surface observation in the range of 0.65 – 50 x with CCD camera and focal length up to 92 mm
Axio Observer 1M – inverted optical microscope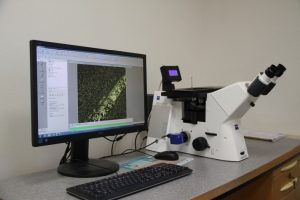 Modern light microscope with 25x – 1000x magnification range for light field, dark field, polarized light and differential interference contrast mode
Neox Plu – confocal microscope / optical profilometer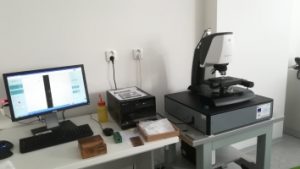 Dual illumination with both white and short wave monochrome light
Automatic switching between confocal and interferometric mode only by changing lens and switching software
Vertical resolution in PSI mode <0.02 nm
Linearity deviation in vertical scanning range up to 50 <m <60 nm
Vertical resolution in VSI mode <1.5 nm
Shooting speed in confocal mode> 10 frame / s
Interferometric lenses with magnification ranging from 2.5x to 100x
Confocal lenses with magnification ranging from 5x to 150x
Optical surface observation in light field in real colors
Motorized and piezo-shifted in Z-axis and motorized XY-stage
Manual transverse and longitudinal tilt of the table
Software to automatically map and compose images from specified areas and to evaluate topographic surface parameters
XploRA – Raman microscope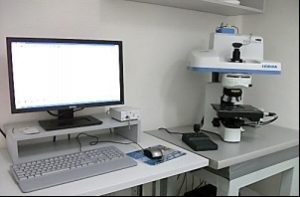 Automatic laser switching and automatic calibration
Automatic confocal aperture adjustment
Spectral resolution at 2400 scratch / mm and laser wavelength at least 3.4 cm-1
Wavelength range at 2400 scratch / mm and 532 nm wavelength from 200 to 3000 cm-1
4 automatically switchable spectrograph grids
Automatic mapping with 1 point capture time below 100 ms / point
Step XY stage less than 0.5 µm
Evaluation software with a basic database for spectrum identification
Optical microscope lenses with 10x, 50x and 100x magnification
Color CCD camera with min. 1 mil. pixels
Olympus GX 71 – light metallographic microscope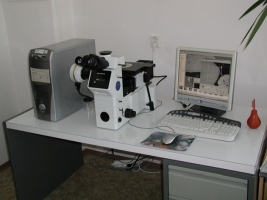 Olympus GX 71 digital light microscope (with camera), with maximum 2000x magnification. Light microscopy is used for basic microstructure analysis of materials with the possibility of observation in modes: light field, dark field, polarized light and Nomarski contrast
Leica DM IL LED – a biological light microscope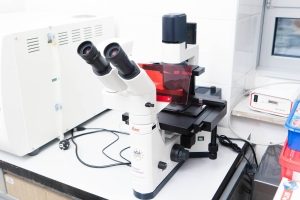 Inverted light optical microscope with fluorescence function for observing the structure of biomaterials and cell cultures
X-ray diffraction analyzers
Philips X`Pert Pro – analytical diffractometer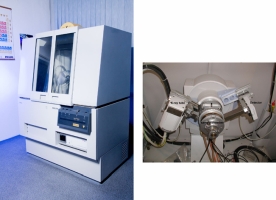 Philips X'Pert Pro MPD with ultra-fast X'Celerator as well as scintillation detector. Measurement Options in Bragg-Brentano Geometry in Various Variations: q-q; n-q. The device allows to analyze the phase composition (crystallographic characteristics) of the substances, the presence of the present phases in the material, the size of the crystallites and the macro / micro-stresses (measurement of residual stresses by the sin2y method). It also enables the realization of in-situ experiments using the HTK16 high-temperature chamber
Thermal analysis
Perkin Elmer DSC 8500 Differential Scanning Calorimeter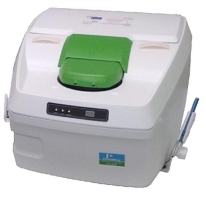 Temperature range: from -180 ° C to 750 ° C
Heating speed: from 0.01 to 750 ° C / min
Cooling speed: from 0.01 to 750 ° C / min
Temperature accuracy ± 0,05 ° C
Cooling time from +100 ° C to -100 ° C with CLN2 cooling system: 80 s
Jupiter STA 449-F1 Series DTA-DSC-TG Thermal Analyzer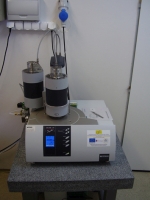 Temperature range: from 25 ° C to 1550 ° C
Heating rate max. 50 K / min.
Heating rate max. 1000 K / min.
Temperature resolution 0.001 K
DSC enthalpy accuracy ± 2% (for most materials)
Electrical and magnetic measurements
HP 4294A Impedance Analyzer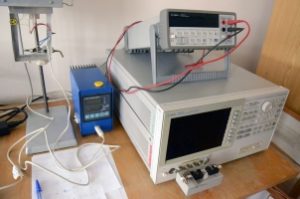 Analysis of complex permittivity and permeability of materials
Range from 40 Hz to 110 MHz
Accuracy 0.08%
Built-in calibration and compensation functions
Teraohmmeter Sefelec M1501P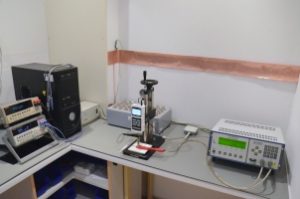 DC measurement of powder and compact material resistance
Teraommeter – measuring range from 3 kOhm to 2000 TOhm (shielded chamber measurement)
Measuring voltage 1-1500 V
Accuracy 0.2%
Range of picoampermeter 0,0, pA – 20 mA
Sefelec BEM24 calibration box, 23 resistors from 5 kOhm to 100 TOhm with temperature and humidity measurement
Multimetern 6 1/2 digit Keithley 2100 – range 100 microOhm – 100 MOhm
Multimeter 7 1/2 digit Keithley 2010 – range 1 microOhm – 100 MOhm
Wattmeter Zimmer LMG500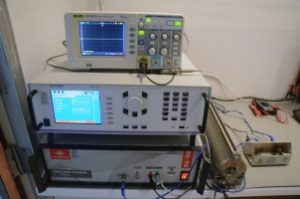 Measuring watt losses of materials, ferrite cores, transformers, electric motors
Frequency bandwidth 0.05 Hz – 10 MHz
Accuracy 0.025%
Dynamic measuring range 3 – 1000 V, 20 mA – 32 A
Rigol D1202CA – 200 MHz digital oscilloscope
DC resistance measurement Mitsubishi Loresta AX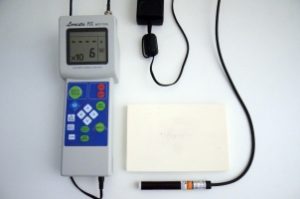 4 point resistance measurement method
Linear probing probes
Measuring range from 10 mOhm to 10 MOhm
Accuracy 0.5%
Measurement of coercive force DX-320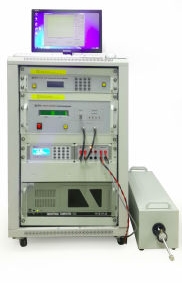 Measuring the coercive force of the magnetically soft materials
Measuring range 1 – 8000 A / m
2% accuracy
Maximum magnetic field 30 kA / m
AFM Dimension ICON – Atomic Force Microscope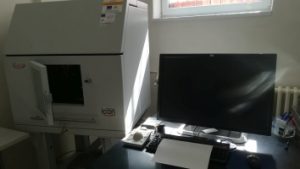 Motorized equipment moving along the XY axis
Samples with max. radius 120 mm
Scanning area 100 × 100 μm
Low noise, cover lid
Video: 508 – 4010x
Scanner – a device moving in three directions
Spectrum analyzers
GD – Profiler 2 – optical emission spectrometer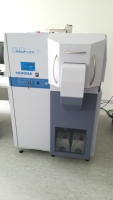 Polychromator 0.5 m
Monochromator
Detectors for 31 spectral lines
Nitrogen generator
IRAffinity-1 Shimadzu – FTIR spectrophotometer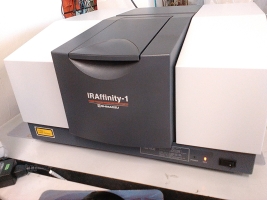 ATR ZnSe FTIR Measurement of Surface Films
Complete evaluation software
UV 1800 Shimadzu – UV VIS Spectrophotometer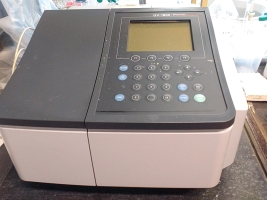 UV VIS dual-beam spectrophotometer
Range 1100-200 nm
Micro cuvette attachment (70 µL)
Measuring the kinetics of reactions and enzyme activity in the temperature cell
HPLC / GPC system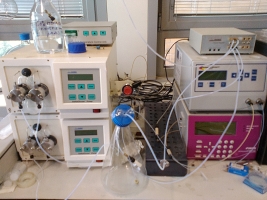 Watrex HPLC / GPC System with IR and UV VIS Detector (4 Channel) and Clarity Workstation for Molecular Weight and Composition Analysis of Biopolymer Systems, Proteins, Polysaccharides
Mastersizer 2000 E – a particle size laser diffraction analyzer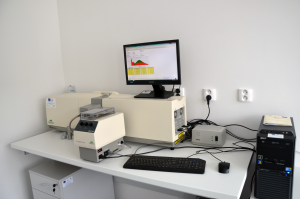 Sampling – dry feeder Scirocco 2000M with automatic detection
Measuring range -0.02 – 2000 micrometers
Red light source – helium-neon laser
Blue light source – a stiff source
Automatic calibration and adjustment of the optical system
Detection system red light – direct scattering, side scattering, backscatter
Blue light detection system – wide-angle direct and backscatter
AccuPyc II 1340 – automatic device for measuring density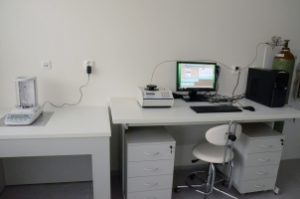 Working medium Helium (possibility to use Ar, N, CO2)
Replaceable measuring cells of 10; 3.5 and 1 ml
High measurement accuracy ± 0.02% of nominal cell volume
Automatic repeat measurement
Automatic statistical evaluation and reporting system
Mechanical tests
Electro-mechanical universal testing machine Instron 5985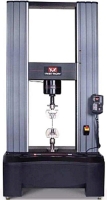 Low profile force head, static, capacity: ± 250 kN
Pneumatic clamping head capacity 200 kN
1930 mm vertical test area
Max. sample thickness 40 mm, max. sample width 75 mm, max. sample diameter 50 mm
Temperature chamber from -150 ° C to +350 ° C
Dynamic strainer: direct measurement of elongation
Feedback control of the machine (tensile, pressure and fatigue tests)
Clamp length 12.5 mm with +/- 5 mm path (+/- 40% specimen extension)
Temperature range of use of the strain gauge: -80 ° C to +200 ° C
TiraTest 2300 electro-mechanical testing machine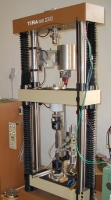 Force sensors up to: 1 kN, 10 kN and 100 kN
Universal material testing software for automatic data transfer
A wide range of tensile, compression, bending, peeling, tear-off and friction applications
Complies with ČSN, DIN, EN, ISO, ASTM and other industry standard test methods
Temperature chamber F1200 up to 1000 ° C
Furnace stretcher MFHT5 Lo 10-50 mm
Vickers 432 SVD 

Micro/Macro hardness tester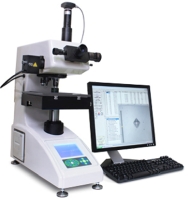 Hardness tester for Vickers hardness according to EN-ISO 6507 with digital reading
LCD display, online statistics
Methods: Vickers & Knoop
Load: 0.3 – 0.5 – 1 – 3 – 5 – 10 – 20 – 30 kgf
Accuracy according to EN-ISO 6507, ASTM E384 and E92, and JIS
Manual image processing and automatic imprint evaluation
WILSON-WOLPERT Tukon 1102 

hardness tester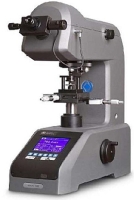 Hardness measurement Micro-Vickers according to EN-ISO 6507 / ASTM E384
Methods: Vickers & Knoop
Load: 10, 25, 50, 100, 200, 300, 500, 1000 (2000) (gf)
Standards: EN-ISO 6507, ASTM E384 & E92, and JIS
Conversion to: Brinell, Vickers, Rockwell
Manual image processing, including the possibility of automatic imprinting
Motorized X-Y table controlled software
Universal hardness tester with max. load 250kg, model UH250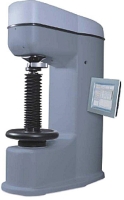 Methods: Brinell, Vickers, Rockwell, S-Rockwell, Knoop, HBT
Measurement evaluation using Wincontrol software
Measurement according to ISO 6506, ISO 6507, ISO 6508, ISO 4545, ASTM E18, ASTM E92, ASTM E10 and JIS
Load: 1, 3, 5, 10, 15, 15.625, 20, 30, 31.25, 50, 60, 62.5, 100, 125, 150, 187.5, 250 kgf
Vickers Test Procedures-HV 1, 2, 3, 5, 10, 20, 30, 50, 100
Rockwell Test Procedures-A, B, C, D, E, F, G, H, K, L, M, P, R, S, V, B, F, 15 T, 30 T, 45 T, 15 W, 30 W, 45 W, 15X, 30X, 45X, 15Y, 30Y, 45Y, 30TM, HMR 5/25
Brinell Test Procedures-HB1: 1, 2.5, 5, 10, 30; HB2.5: 6.25, 15.625, 31.25, 62.5, 187.5; HB5: 25, 62.5, 125, 250; HB10: 100,250
Nanoindentation Tester Agilent G200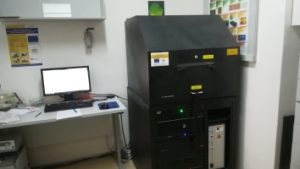 Equipment for nanoindentation measurements (nano-hardness measurement)
High precision measurements
Testing from 0.5 mN to 10 N
Dynamic mechanical analysis
Scanning by tip
Microscratch testing
Testing up to 500 ° C
Micro-nano indentation tester TTX NHT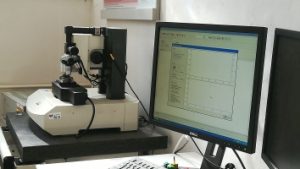 Different tip geometry
Load Resolution 40 nN
Testing from 0.1 to 500 mN
Dynamic Mechanical Analysis
Indentual fatigue and creep
Large range of load modes
BRUKER Scratch Tester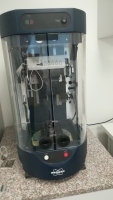 Examination of coating damage mechanisms during wear
Scratch test up to 200 N resistance – adhesion and stability of protective coatings
LECO LM700AT – automatic micro hardness tester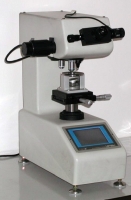 Load: 10 g, 25 g, 50 g, 100 g, 200 g, 300 g, 500 g, 1000 g
Lenses: 10x, 50x, 100x
Tip: Diamond indentor Vickers
Measuring microscope: electronic
Automatic Penetration Evaluation – Conversion Table HV
Cracktronic – Resonant Fatigue Testing Machine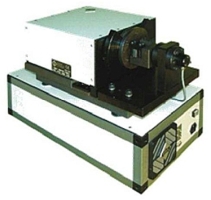 Desktop model for dynamic bending load
Application: fatigue tests, / S / N-diagrams; fatigue crack growth / da / dN-curve
Max. bending moment value: 160 Nm
Max. peak-peak bending moment value: 160 N (± 80 Nm)
Max. static moment: 100 Nm positive moment
Dynamic angle: 2 ° (± 1 °) adjustable
Frequency range: 70-250 Hz (6 steps)
Nanotribometer CSM NTR2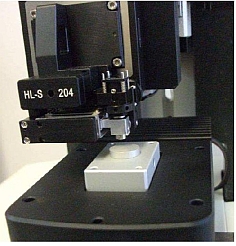 Extremely accurate measurements at loads up to 1 N
Circular and reciprocal motion
Accurate tests of small samples, biomaterials, polymers
High temperature tribometer CSM THT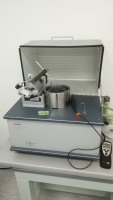 pin / ball on disk
Load up to 10 N
Tests up to 800 ° C
Universal tribometer Bruker UMT 3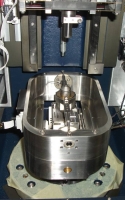 Wide range of exposure modes
Circular and reciprocal motion
Dry and Liquid Tests (Lubricant Tests)
Bearing tests – balls, rollers
Higher loads (5-1000 N)
Charpy's hammer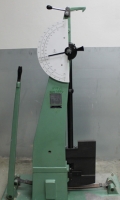 Dynamic bending impact tests
For determining impact work and impact strength values
Creep machines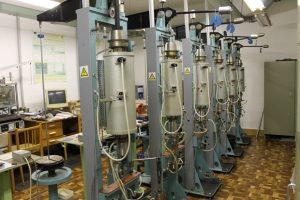 Creep tensile tests of metallic materials under constant load
Temperature range of tests from 200 ° C to 650 ° C
Initial load voltage range from approx. 50 MPa to 200 MPa
Possibility of continuous measurement of creep deformation by LVDT sensors with accuracy of 1 μm
Possibility to determine creep lifetime (time to refraction) and creep plastic properties
HTTF-2 High Temperature Furnace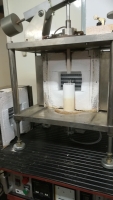 Four-point creep bending, pressure and indentation creep up to 1500 ° C
High temperature bending strength measurement up to 1500 ° C
Measure crack growth at elevated temperature up to 1500 ° C
Measurement of thermal shock resistance